About Us

About Salons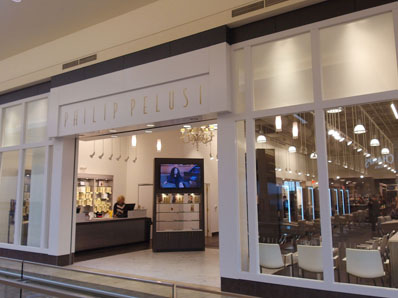 Philip Pelusi® Hair Salons are Pittsburgh's premier hair salon destinations, meeting the demands of guests and staying at the forefront of style and fashion, truly living up to our promising tagline, "A Cut Above the Rest®." With 12 salon locations in Pittsburgh and surrounding areas, Philip Pelusi® Hairdressing Salons are the ultimate hair salon venue and experience. Highly trained, certified Beauty Consultants combined with exemplary customer service provide consistent, full-salon services and care for every image and beauty need. Each visit ensures an exclusively customized consultation and a six-month image building plan, along with recommendations for continued-at-home care to guarantee satisfaction with your look from the moment you leave the salon until your next visit.
The Philip Pelusi® Beauty Salons' legacy is a story of innovation, talent, and perseverance that began in 1965 with Philip Pelusi himself, one single hair studio, and four promising hairstylists. By 1976, Philip had already expanded his hairdressing staff to 30 hair stylists; invented and trademarked a revolutionary, patented, haircutting methodology entitled the Volumetric® Haircut; created a self-designed educational training program; and successfully opened his second salon location. In the 1980s, Philip Pelusi's Hair and Beauty Salons effectively expanded into the developing mall markets with six more Pittsburgh hair salon locations, thanks to the savvy on-boarding of Philip's brother, business partner, and company Vice President, Mr. Henry Pelusi. At the close of the 1990s, 12 top hair salon locations in the Pittsburgh area were up and running, along with the Philip Pelusi® Education & Training Center, and the popular line of Philip Pelusi® consumer products.
About Products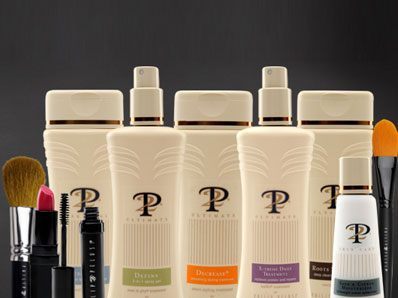 Involvement with the beauty industry created a challenge for Philip Pelusi, equally as challenging as opening and operating hair salons and managing staff-and that was to create products that could support his hair styles and designs. As a result, Philip launched the Philip Pelusi® P2 lines of professional hair care and skin care products.
The P2®/Essentials Hair & Skin Care lines bring together the best of nature and the best of science. Philip selects only top-quality, organic, and naturally-based USP Grade pharmaceutical ingredients. Products are highly concentrated with next to no water, and color safe. Phillip's exclusive Micro Emulsion Technology causes ingredients to better penetrate for longer-lasting results.
P2 Shampoos and P2 Conditioners Products are infused with Philip's potent strengthening and moisture-binding Patent Pending, Hydro-Charged Pelusi Ceramide Complex. These products are sulfate-free, have an allergen-free fragrance, gluten-free, silicone-free, salt-free, paraben-free, are ozone friendly, contain no synthetic dyes, no GMO's, and are not tested on animals.
The P2® PURE Cosmetics line by Philip Pelusi® offers a gluten-free color palette for all skin types.P2® PURE Cosmetics is a paraben-free, sulfate-free, gluten-free, and talc-free line of cosmetics. PURE is a healthy, natural-based, high-end yet affordable cosmetic line including a complete color and product selection and for all skin types and ages. From our Velvet Veiled Primer to our Age-Defying Crème Foundations to our Runway Lip Glosses- try PURE with a Philip Pelusi® Make-up Touch-up or Cosmetic Application.
About Philip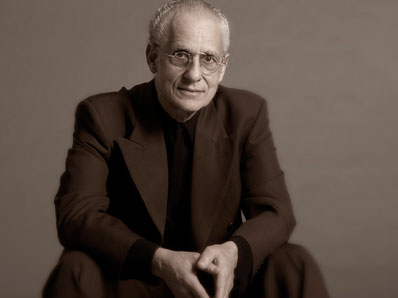 Philip Pelusi is an internationally recognized stylist, product innovator, business entrepreneur and photographer, whose name is synonymous with excellence in the beauty industry. Having gone from one to twelve salon locations beginning in 1965, Philip Pelusi also created a unique hair care philosophy, combining the best of science and nature- out of which two comprehensive product lines and a skin care line were born. PHYOLINK 4.0SM NATURE SCIENCE BEAUTY WELLNESS SM State-of-the-art technology combined with brilliantly mastered design, Philip's product lines bring together the best of natural product ingredients with cutting-edge scientific expertise. Using PhytoLink research and development techniques, Philip Pelusi created unique and exceptional lines of upscale, environmentally safe and user-friendly product formulations for total hair care and skin care. Additionally, the Professional Salon line includes an Enhanced Organic Relaxer Gel, Anti-Curl System and other organic texture management systems.
Philip Pelusi also developed the S.P.A.C.E Design Center (Space for Photography and Creative Expression)- a state of the art education facility in a converted orthodox church where, in addition to providing skill certification for his hair stylists, Philip and his staff hold events and seminars for salon owners from all across North America. Created and trademarked within the industry, Philip's tagline, "A Cut Above The Rest®", reflects with his innovation of his unsurpassed Volumetric® haircutting techniques, upon which he built his businesses. Over the years, Philip and his Design Team of Creative Directors have been and continue to be sought after by top fashion designers across the country for hair design art for Fashion Weeks- particularly in New York and Chicago, as of late. These continued opportunities afford Philip and his team of visionaries to not only do hair and makeup for renowned events and shows; they also serve as formats for his latest hair trends and collections to be premiered along with the most upscale couture.
Additionally, Philip recently took main stage in the industry by unveiling Tela Products by Philip Pelusi. In 2008, Philip premiered Tela Beauty Organics, the industry's first USDA certified organic line of hair care products, created in accordance with the highest USDA organic standards as well as ingredients that meet the stringent requirements of the US pharmacopoeia. Boutiques and high-end retailers across the country continue to show interest in maintaining and carrying the Tela brand (P2 Products also available for outside salon and distributors).For more information link to Tela.